A glimpse into the wedding of Shriya and Saurabh
My niece got married last evening. Oh, I still think she's a kid but, no more! I clicked some pictures at her wedding, and can be found in my weddings portfolio page. Writing this blog to give caption to some of the pictures, or share a backstory about the picture.
I wasn't here in Nagpur until the wedding day, so didn't get to witness any other event than the wedding itself. Starting with the bride's make-up. But before that, a backstory of the make-up artist.
A. She lands up more than an hour late at the venue to start the make-up, when everyone including the bride are all stressed up since are getting late for the wedding to begin! Oh, not to forget, because she was late, I didn't get a chance to click pictures at such a beautiful location!
B. I wanted to click pictures of the bride 'while' the make-up process was on. The make-up artists says she 'knows' when the photographs are to be taken and will call me inside the room accordingly. After waiting for godly odd hours when I entered the room, the bride was ready! Yeah, missed couple of shots I planned on taking!
C. The reaction on the make-up artists face when I showed her the picture I clicked of the bride – Meh! All I said in my mind, "Darling, I didn't click the picture for you, but did it for me!"

Conclusion – Don't be such a make-up artist. Ever!
Okay, coming back to the photo series. Starting with the beautiful bride, admiring herself by the mirror.
And when I was about to get a better shot, guess what happened?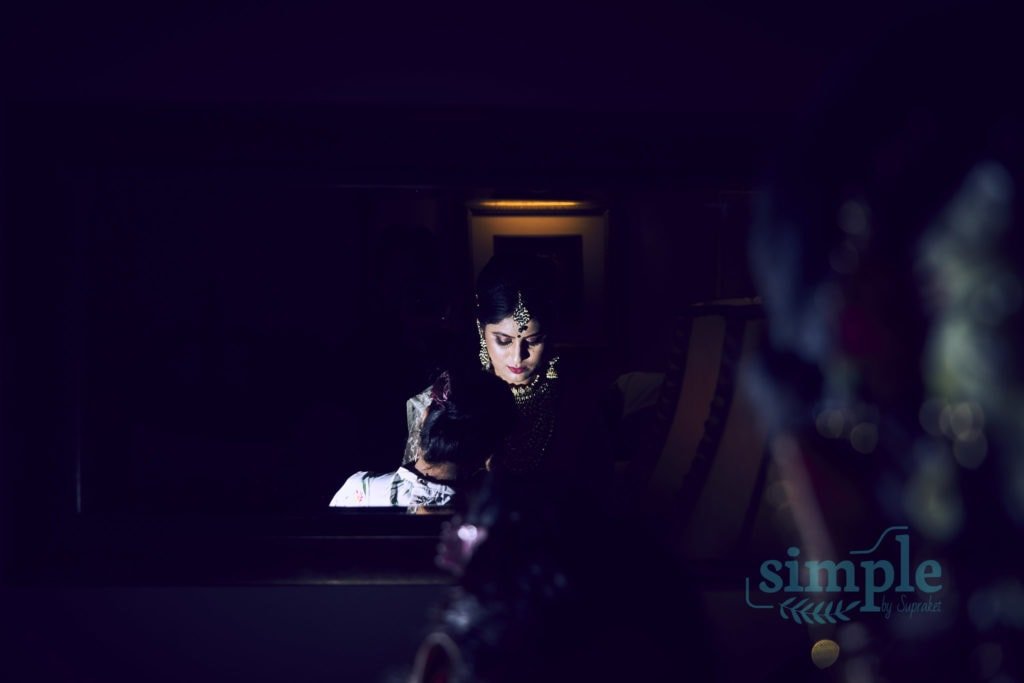 You know what I was thinking, right?
But then, minutes later I saw the bride smile. Ah, control your anger and capture Supraket, capture! So I did. If the bride is happy, so should be the photographer!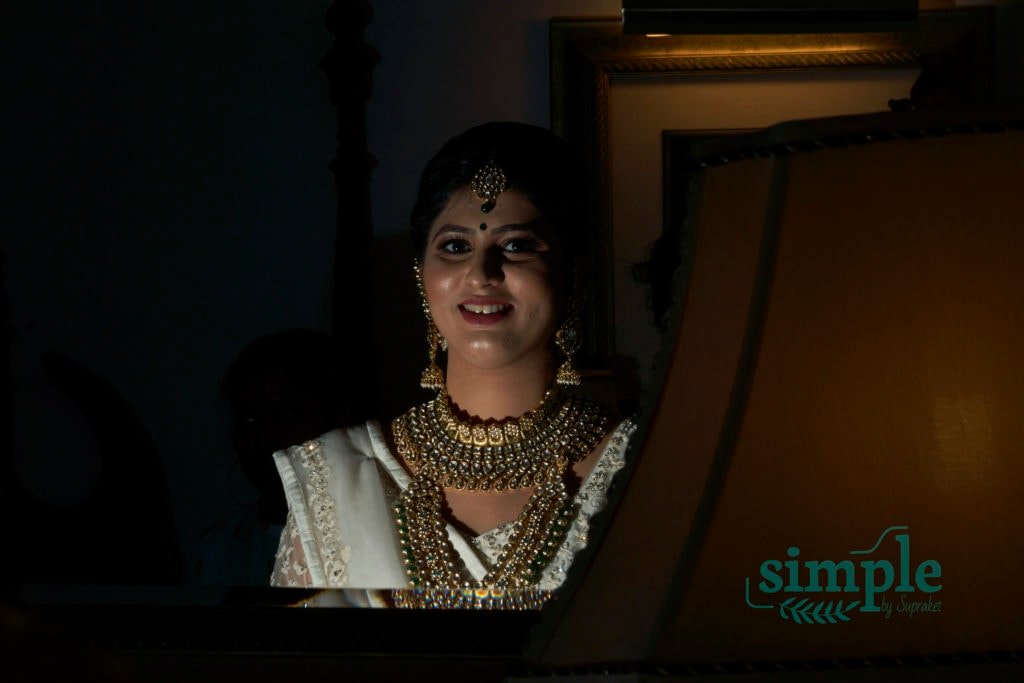 She sat on the tiny leg rest for a while and then I thought to myself, that's an interesting angle. Let's capture from a different angle!
And so came this.
Actually two. I can't decide which looks better between the two, help me with your views? Use the comments section to do that! I honestly liked both, as each has it's own respective story.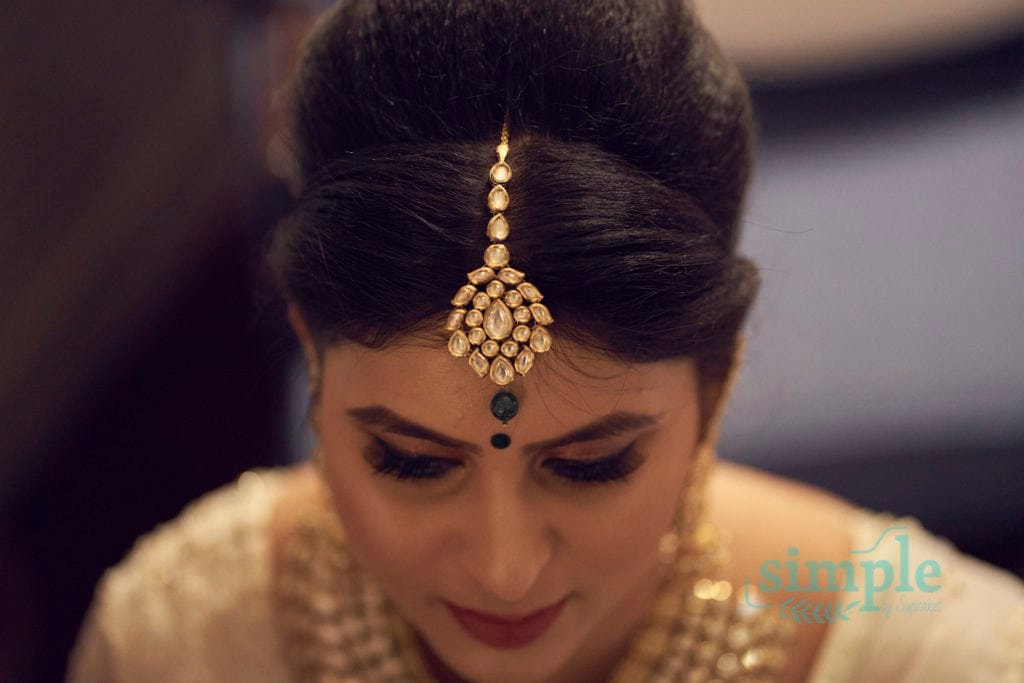 What's your take on these two images above?
I 'kind' of got what I wanted, so moved out of the room, and create some breather to the people inside the room. It was quite full, at that point of time. And for some unknown reasons, the air-conditioning wasn't performing its job, properly.
Some double digit minutes later, the bride enters the hall. With a 'phoolon ki chaadar' hanging right above her, held by all the bhai's of the bride, makes an entrance for everyone to look-out for. I really wasn't one of the front-runner to capture every moment, scooted around to find a vantage point to click the moving bride. I found one. I got a picture too. It was too perfect picture at that moment, with her smile complimenting it. But alas, it 'was', and not 'is'. Only to be disturbed the picture by one hand. Here it is for you to give your opinions on it.
Did get another picture, but not entirely happy with it. But then, if the above picture doesn't work, something else has to, ain't it?
So got this one, as a replacement.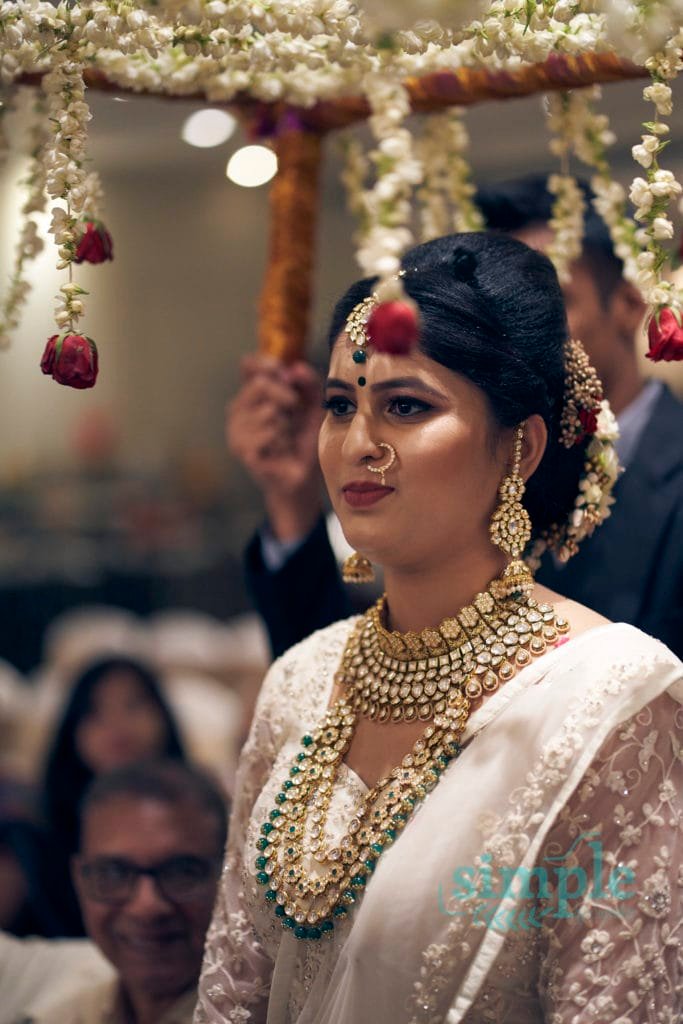 And the grand entrance reached the stage and the couple were seated. Where's the groom, you ask? He was there, he was there. Doing a Bollywood style entry in this photo-series where you first see glimpses before you see the real face. Spot one in the picture below. Tell me if you see him (or not, for that matter)! 😛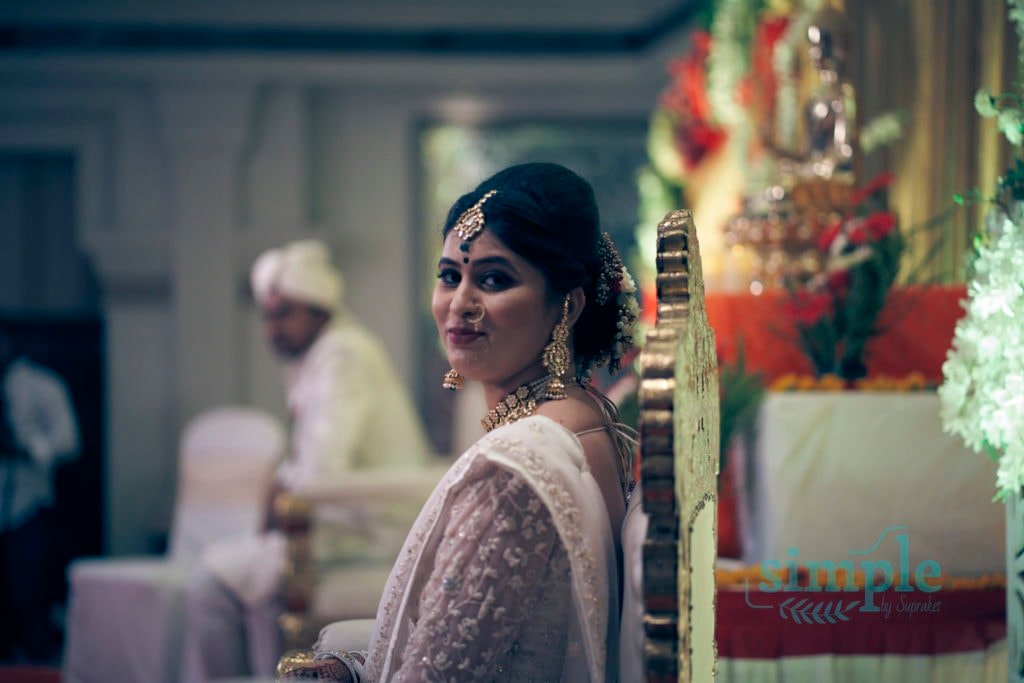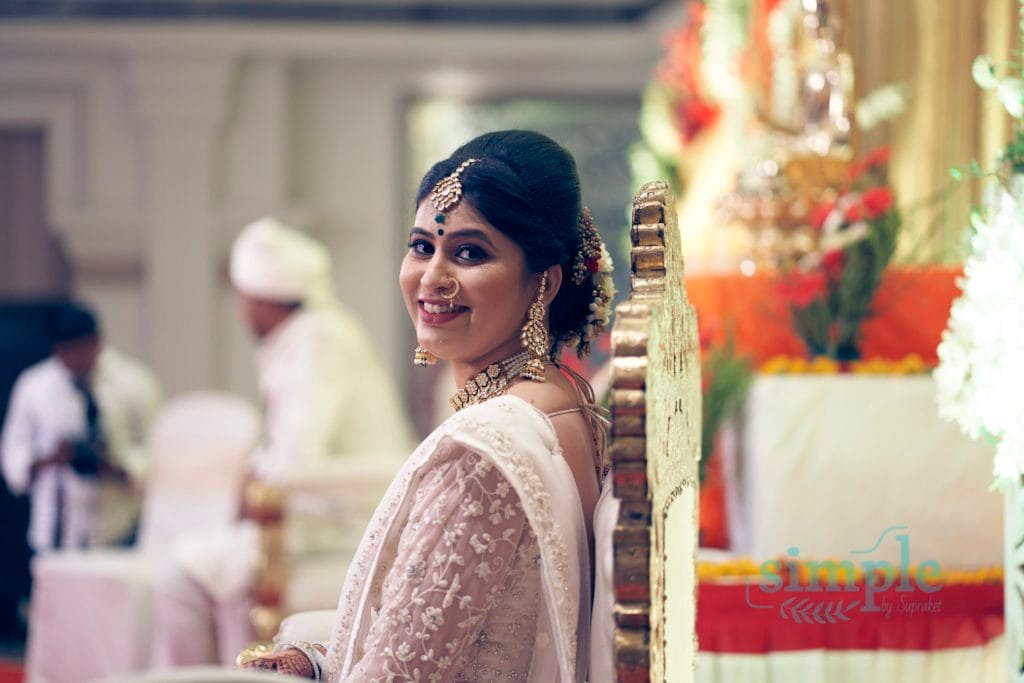 Again, two pictures am torn-ed between, unable to opt one. So posting both.
Before progressing further, there's a disclaimer. The mini photo collage series, along with the captions, are just for gags and not really meant to hurt anyone's sentiments. All in some light humour, all in some light humour.
Yes, so the wedding progresses. It's on. Guess should bring in one more disclaimer, for those who aren't aware. This one's Indian Buddhist Wedding. A wedding which happens in 15 minutes flat. So don't come all over me asking how the wedding got over so soon, in the pictures!
Moving on. Introducing the groom, Saurabh.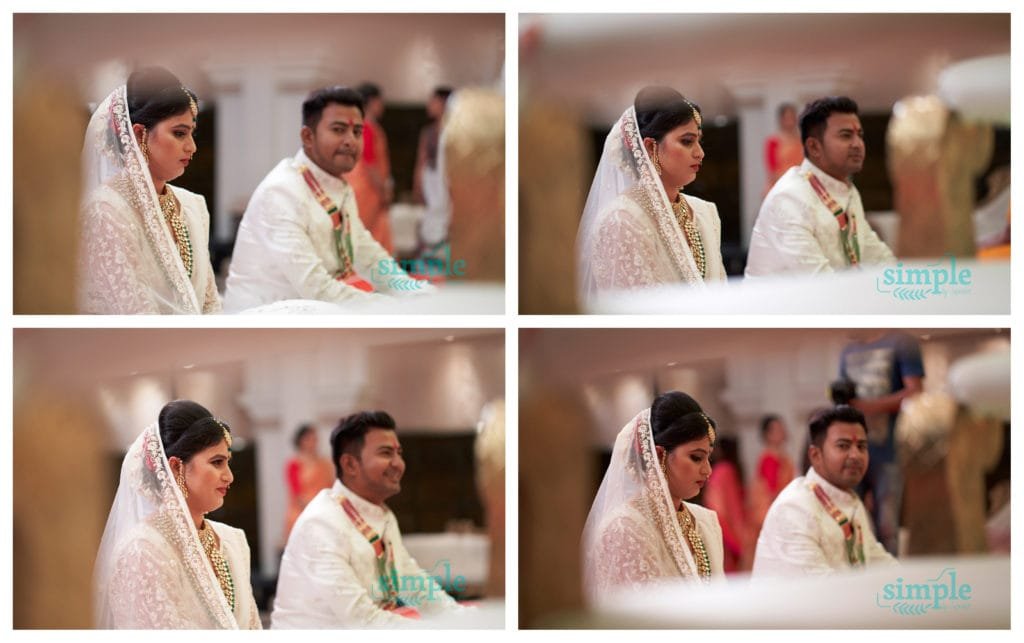 Do you see a story in this collage?
First image, Saurabh looks at me and wonders what am I really clicking near the chair.
Second image, "Guess I'll ignore Supraket."
Third image, "Oh, the monk just cracked a joke."
Fourth image, "Dude, what are you really doing there?!?"
I stood up looking for more interesting angles. Clicked few too. But…
Anyway, so the following picture collage. Look at the eye-balls of the bride in all four, and then look at the grooms.
I shall refrain from having any caption for the above collage. Enjoy the visuals.
But then, realizing what was happening, Shriya took control of the situation and gave me an opportunity to capture this.
Saurabh, please don't kill me for this! It's just for fun!! *puppy eyes*

Next couple of pictures, I couldn't really come up with a story, so sharing them as they are, without any captions. But friends, be my guest. You're free to come up with a story of your own and hit me up on me@supraket.com and I'll be happy to feature them here. With due credits, mind it! Or use the comments section below to do so!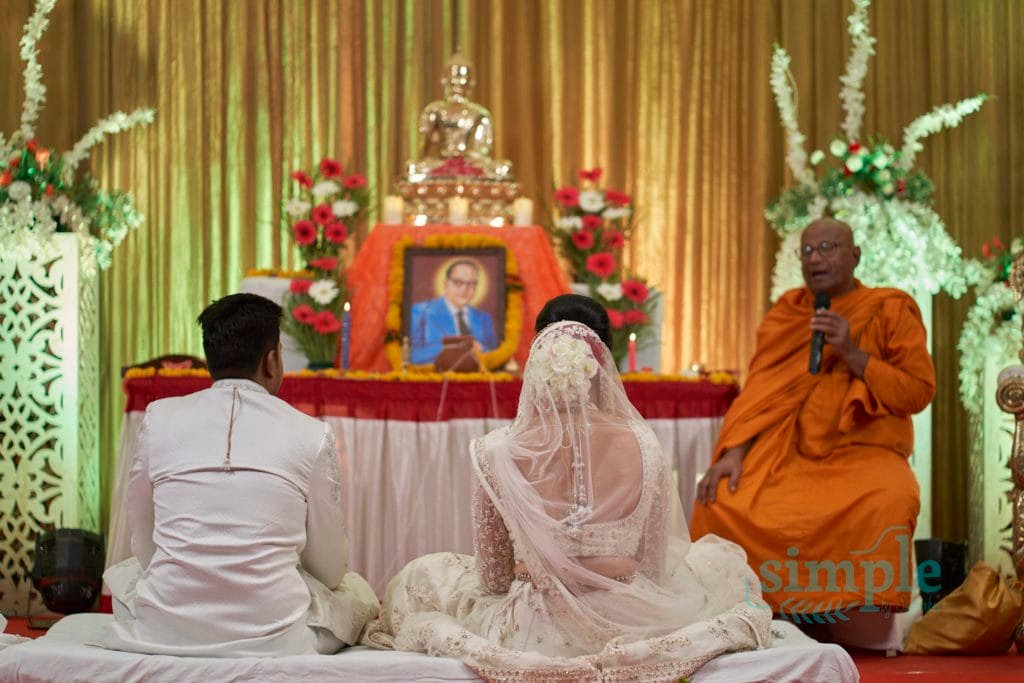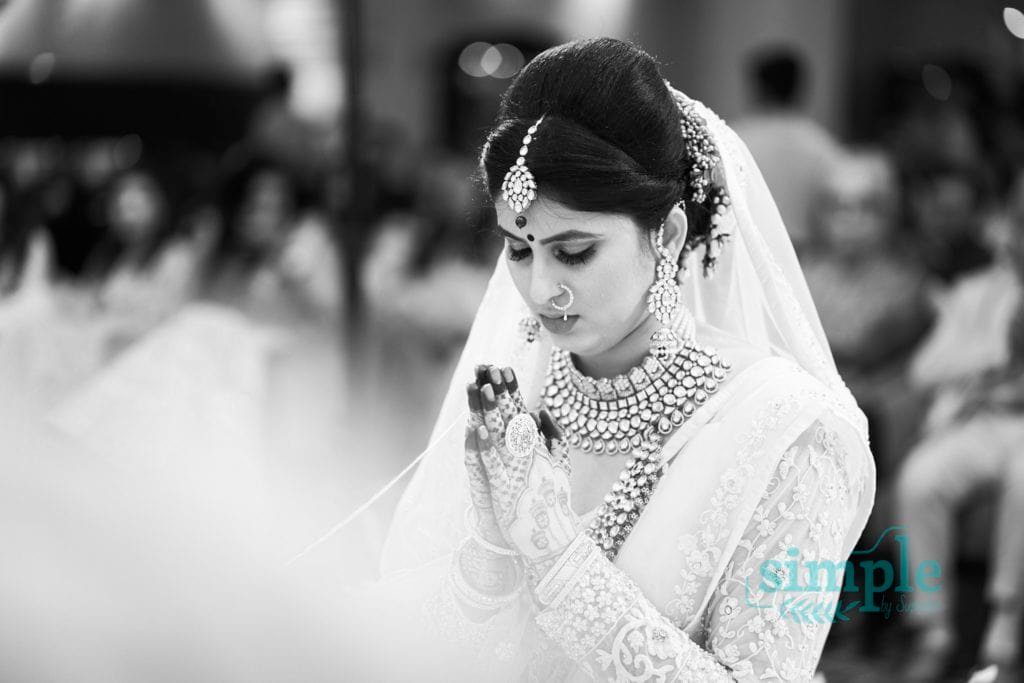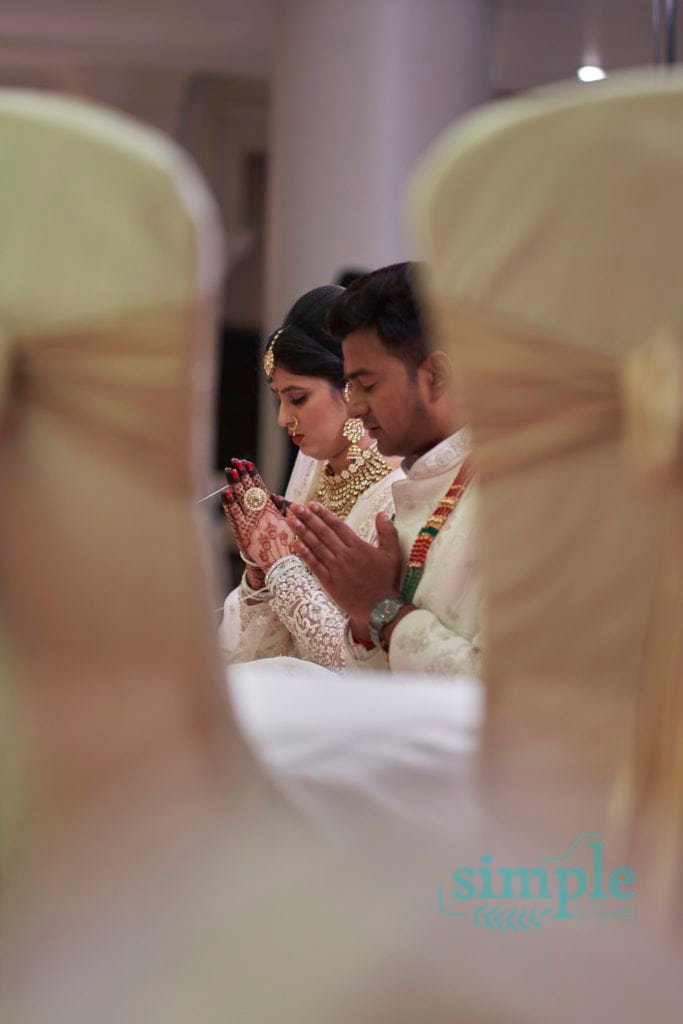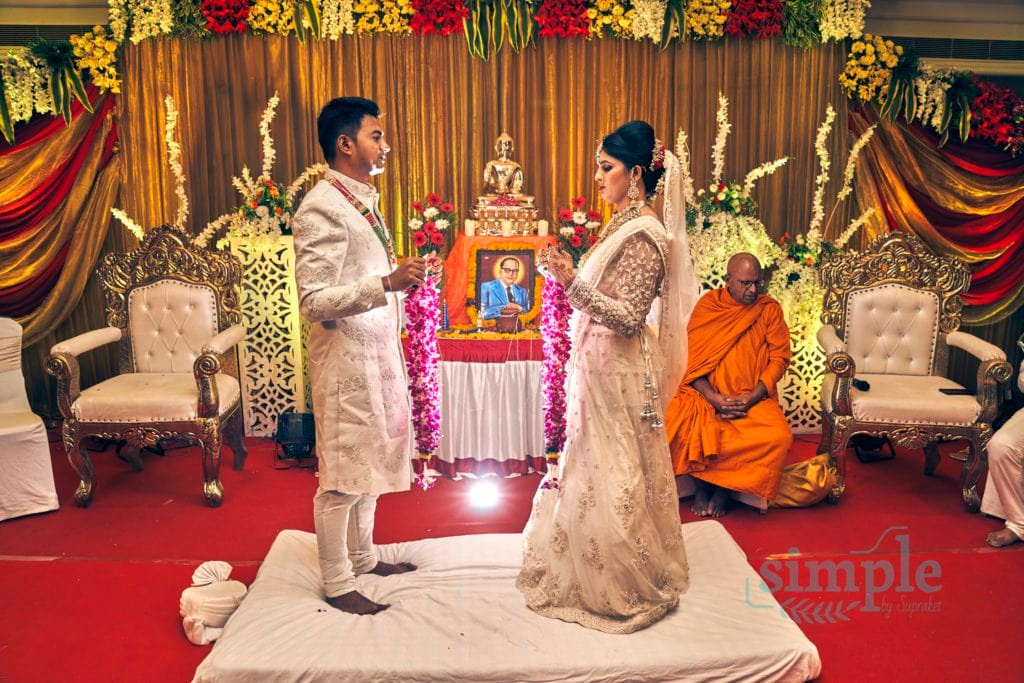 Yeah, it's time for the congratulatory messages to flow. Keep them coming, ahoy!
And now comes the final set of images in their Reception outfits. Three of the four images are clicked in similar environment, but all of them convey different emotions, because the way they have come out.
And yes, of course, again I couldn't decide the which among them were the best. So please help me out here?
The first image, although the bride was caught in the shadow, I see an interesting story between the two in this picture. Oh and also, Shriya, you already have lot of solo shots of yourself. Let Saurabh enjoy some limelight too! 😛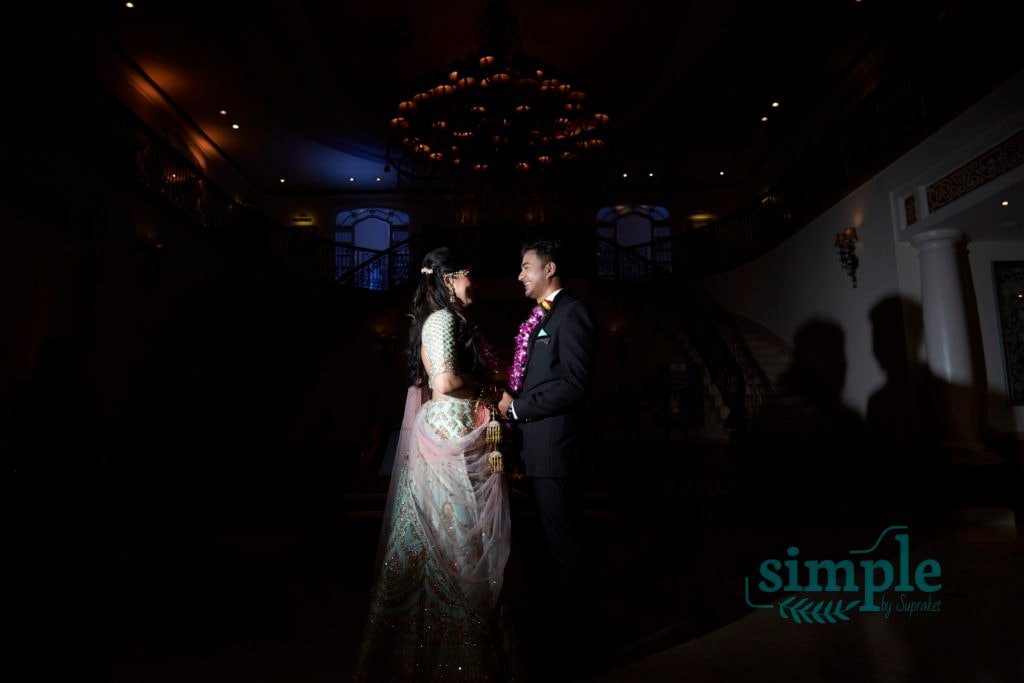 Talking about shadows, the next image has some interesting shadows at both end. I like the way they've come. And hence have included them here. Couldn't say no to myself not include it.
What if you had to give a caption to the above picture? Something to do with the shadows? I know you already have something in mind! Spill the beans!
Anyway, the final picture from this 3 picture series.
Drum rolls
And then the following picture, entirely shot and edited on my cellphone. So please be gentle with your criticism here. 😉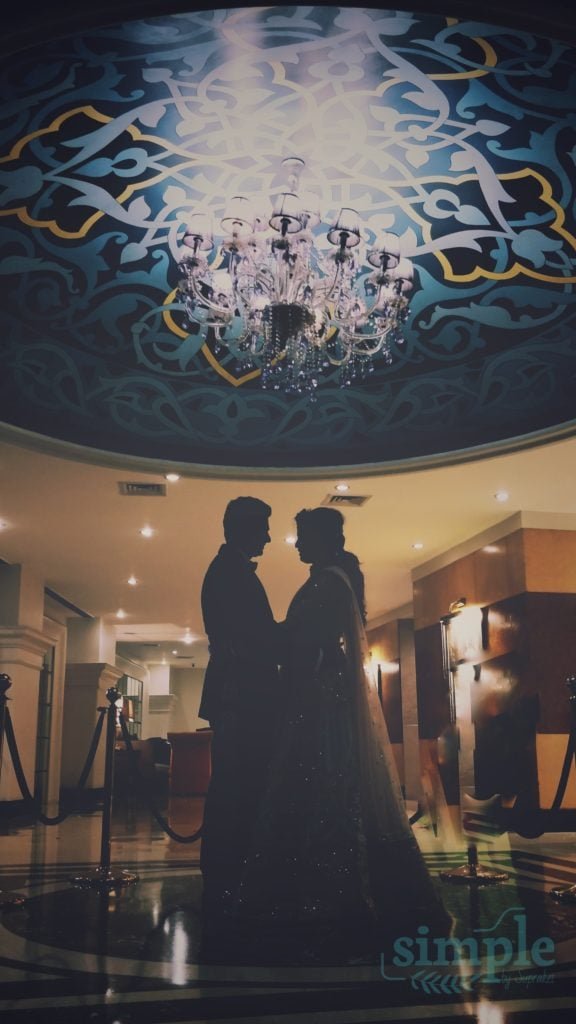 ---
And that concludes this photo series I captured at my niece's wedding. I wanted to keep it short, but didn't realize it'll go so long.
And now I want to know, if you've read this till here, what made you go on and on on this long blog post? Do use the comments section to answer to this question. Considering this is just the second blog on my website here, the feedback will help me constructively!
Considering sharing this with your relatives, just like you do with the forwards in your family group? And then, relatives ko kiya hain toh friends ko bhi karna padega na!
Thank you so much for your time and attention. I hope you enjoy as much I did while creating this!
Cheers!